AMERICAN SWISS BALLET COMPANY


"A Fantastic Cultural Exchange"

"A Fantastic Cultural Exchange"American Swiss Ballet Company:Founded by Sônia Melo and Alfonso Bausilio in Bern. The two have been sharing their passion for the arts internationally, established in dance since 1996, with two ballet academies in Switzerland and one AS Ballet Academy in New York City branched in 2012. Making world renowned dancers for over 20 Years.

In 2014 Sonia Melo created the AmericanSwiss Ballet Company in New York City with the intention to help dancers follow their dreams. To travel the world doing what they love, meeting choreographers with different styles giving them the opportunity to enrich artistically and technically. Working with dancers from different countries and cultures that share the same passion to then understand, admire and respect one another.


Making a real cultural exchange!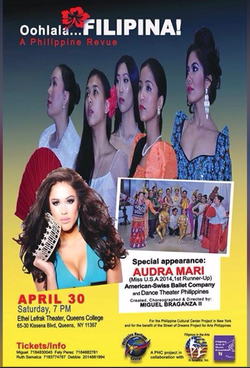 Upcoming events
---
ASBCOMPANY Kara Cooper and Jose Rojas will be dancing: Le Cid, Aragonaise April 30th 2016 at
Ethel Letrak Theater,
Queens College 65-30 Kissena Blvad, Queens, NY 11367
ASBCOMPANY will be dancing May 21st 2016 at Solo Duo Festival
"Sweet sacrifice" Choreography by Ada Cacciatore
Dancers: Kara Cooper and Giuseppe Bausilio
__________________________
Our mission:
We would like to help Dancers to follow their dreams. To travel the world doing what they love and meeting choreographers with different styles giving them the opportunity to enrich artistically and technically. Meeting dancers from different countries and culture that share the same passion and then understand, admire and respect each other. Make a real Cultural exchange.

The ASBCompanyNY (American Swiss Ballet Company) is holding AUDITIONS for MALE & FEMALE dancers with strong Ballet and Contemporary technique for soloist, corps, and apprentice positions. E-Mail us at asbnycompany@gmail.com with your Headshot and Resume to: asbnycompany@gmail.com to schedule your audition.
Audition Location: 300 West 38th Street STE 2E New York, NY 10018
Phone: + 1 646 580 7311
Open Company Class: Ballet: MON-FRI at 10:00am POINTE: WED & FRI at 10:00am
Photos of the first ASBC's Choreographers Studio Showcase
ASBCompaNY Calender 2015-2018:

(Past performances)

APRIL 2015

25th & 26th:

ASBC Choreographer's Studio Showcase

At: AS Ballet Theater NY

at 7:00pm

Location: 300 West 38th Street STE 2E NY, NY 10018 Phone:

+1 646-580-7311MAY 2015

At: Dance Fest

Date: May 16th Btw. 3:10pm

Location: Tompkins Square Park NYC

30th: at 7:00pm

31st: 5:00pm ASBC 2nd Choreographer's Studio Showcase

At: AS Ballet Theater NY

Location: 300 West 38th Street STE2E NY, NY 10018 Phone:

+1 646-580-7311 JUNE 2015

27th: ASBC 3rd Choreographer's Studio Showcase

At: AS Ballet NY

JULY 2015

18th: Guest Performance: AT MARJORIE DEAN THEATER NYC

JCI Philppines-NY 100 YEARS

at 7:30pm

10 West 64th Street NY, NY 10023

AUGUST 2015

29th: ASBC Choreographer's Studio Showcase

at 5:00 & 7:00pm, followed by a reception.

SEPTEMBER 2015

12th: Award Ceremony at ASB Theater in NYC

OCTOBER 2015

8th: Guest Performance: Opening reception Phil Valy

Montclair NJ

24th: ASBC 5th Choreographer's Studio Showcase

at 5:00 & 7:00pm, followed by a reception NYC

ASBCompaNY Calendar 2015- 2018
(Upcoming Performances)

DECEMBER 2015

Nutcracker Date: December 5th & 6th at 2:00pm & 5:00pm; Minneapolis, Minnesota

Nutcracker Date: December 12th & 13th at 11:00am; New York, New York, The Elektra Theater.

Nutcracker Date: December 19th & 20th at 2:00pm & 5:00pm; Bern, Switzerland, ASB Theater.

2016

FEBRUARY 2016

MARCH 13th 2016


New York Dance Parade 10th Lift Off Celebration
Taj Lounge
48 W 21st St
New York, New York 10010

APRIL 2nd 2016

At 7:00pm
Brooklyn Festival
Kimble Theater at LIU
1, University Plaza
Brooklyn New York 11201


April 30th 2016
Miguel Braganza's Performance

MAY 2016

May 21st:
New York City, Dance Parade.


May 21st and 22nd

WHITE WAVE
Solo-Duo Festval
At the Poet's Den Theater
309 E 108th St
New York, NY 10029
United States





JUNE 2016

11th: Exam AS Ballet NY Academy and Performance Theater TBD

25th: ASBC 7th Choreographer's Showcase NYC

SEPTEMBER 2016

17th: Award ceremony Performance

OCTOBER 2016

26th: ASBC 8th Choreographer Showcase in NYC

DECEMBER 2016

10th: Performance The Nutcracker Theater TBD in NYC

2017

FEBRUARY 2017

25th: ASBC 9th Choreographer's Studio Showcase in New York City

APRIL 2017

Date TBD ASBCSE 2nd (ASB Choreographer's Showcase Exchange)
In Bern Switzerland at ASB Theater

MAY 2017

New York City, Dance Parade, TBD Date

JUNE 2017

17th: Performance, New York City

24th: ASBC 10th Choreographer's Showcase

SEPTEMBER 2017

16th: Award Ceremony Performance

OCTOBER 2017
28th: ASBC's 11th Choreographer's Showcase

DECEMBER 2017
9th: The Nutcracker Performance

2018

FEBRUARY 2018

25th: ASBC 12th Choreographer's Studio Showcase

Date TBD Dance Parade

JUNE 2018

16th: June Performance

23rd: ASBC 13th Choreographer's Showcase

SEPTEMBER 2018

15th: September Performance

OCTOBER 2018

27th: ASBC 14th Choreographer's Showcase

DECEMBER 2018

15th: December, Nutcracker Performance New York City
ASBCompaNY Staff
Sônia Melo (Director)
Former Principal at Stadttheater, Bern, Switzerland. Choreographer at the Stadttheater Bern: Opera Lulu, Opera Rigoletto, Opera Mazepa, Opera Carmen, Musical Oliver Twist, Stage the Play Zobeide. Founder & Artistic Director AS Ballett Switzerland. Teacher: Ballet Classical and Modern; Specializing in Pointe work, Competition coaching and choreography.
Choreographer: Ballet, Opera, Plays, Musical, Dance Videos, Stage Coach, Stage Designer, Costume Designer, Producer/Director, Carrier consulting.
Since 1996, Director and Founder of the AS Ballet Academy, Theater & Shop: in Boll and Bern, Switzerland. Current president of AS Ballet New York LTD: American Swiss Ballet Academy and Company. Member of the: "Association Francaise of Maitre de Ballet de Paris" & "Association Dance Swiss". Investor in the Broadway Musical: "Evita", Member of: TRU (Theater Resources Unlimited) NY. 20 years forming and coaching professionals for Ballet, Musical, Theater, Opera. Director of ASBCompany in New York City, New York.


---

Alfonso Bausilio ( Ballet Master)
Born in Naples, Italy. Founding & Manager Director of AS Ballett Switzerland.
Teacher at AS Ballet New York. Performed with Carla Fracci at "Teatro La Fenice" in Venezia, in Bologna at "Teatro Comunale" in Verona at "Arena di Verona" also in Florence with Rudolf Nurejev, Patrick Dupont at Teatro Comunale".
Principal Dancer at "Teatro dell'Opera" Rome, "Ballet Royal de Wallonie Charleroi" Belgium while under the direction of Paolo Bortoluzzi, in Rome at "Teatro dell'Opera." in Israel "Tel-Aviv Ballet."
From 1987 to 1996 he was dancer at Stadttheater Bern with Riccardo Duse, Reda Sheta, Mckim, Bruce Steivel, Francois Klaus und Martin Schläpfer, choreographed "Clock Work Orange" for the Stadttheater in Bern. Member of SDT. Teacher Diplome Certificate from the American Ballet Theatre, in New York City.

---
Ada Cacciatore (Choreographer & teacher)
Born and raised in Italy. Began her professional dance training at "Accademia Nazionale di Danza" in Rome where she received her B.F.A. She attended several summer intensive including, Random Dance Company, Phoenix Dance Theater and Nederlands Dans Theater, she also was selected to participate in Alonzo King Lines Ballet Intensive. Ms. Cacciatore moved to New York City to complete her Indipendent Study Program at The Ailey school. She performed works by Zarko Prebil, Adriana Borriello, Max Luna lll, Donald Byrd, Darshan Singh Bhuller, Amaury Lebrun, Lakay Worrell, Sidra Bell, Nicola Iervasi, Yesid Lopez and Stefanie Batten Bland. Currently, choreographer/teacher at ASBCompaNY under the Artistic Director of Sônia Melo and Resident Choreographer/Artist in resident at Gloom Dance Project under the direction of Beatrice Rocchi.


---

Hitomi Yoshimura (Ballet Master)
Hitomi has danced throughout, Japan, Denmark, Israel the Caribbean and the U.S. ; Principal dancer in national TV commercial for NASDAQ, worked as a principal adagio dancer in Las Vegas, and as a lead dancer for the Costa Cruise Line. Teacher of ballet and jazz in Tokyo at the Piccolo Ballet Company, Hiroshi Ieki Jazz Dance Company, Studio FAME Company as well as several ballet and jazz dance studios.In the U.S. Taught at Steps 74 &Broadway Dance Center as assistant for Miguel Godreau's class, New Dance Group Arts Center, Arts Cure Center. Choreographer and worked with Carmen de Lavallade, Donald Mackyle, Luis Villanueva, Lisa de Rivera,Miguel Godreau and Billy Wilson. Currently in the faculty of AS Ballet NY. And Tokyo Kokusai Gakuen, Teacher-Choreographer, Tokyo, Japan. She continues to be an inspiration as a teacher and performer. Choreographer throughout the U,S. and Japan.



---
DANCERS
GIUSEPPE BAUSILIO (Guest Artist)
Giuseppe is currently 18 years old from Bern, Switzerland. Giuseppe was noticed at the Finals of Ballet Competition YAGP in New York, 2009 to Playing the Role of Billy Elliot on Broadway which he did for three years Starting in Chicago, US Touring Company and on Broadway until closing. He was "Racer" in Newies! The Musical on Broadway. Currectly at Family Chanel in Toronto in the 4th Season of "The Next Step". Won World Ballet Competitions like YAGP and many others in Switzerland, France, Italy and the US. Participated to the Hollywood movie "Dead Man Down directed by Niels Oplev. Coached by Susan Batson acting became his Passion. Giuseppe plays guitar and speaks seven Languages.


---

Kara Cooper
Originally from Baltimore, Maryland; Kara started Ballet with Gniazdowska Studio of Ballet. Major in ballet performance at the University of Cincinnati, College-Conservatory of Music for their BFA program. Moved to New York and trained at the Martha Graham School of Dance and has performed Ballet Deviare, the MorganScott Ballet, Covenant Ballet Theater of Brooklyn, Ballet for Young Audiences and performs as a guest artist with Ballet Inc and enjoys teaching ballet to young students in various parts of the city. Kara is delighted to be dancing with American Swiss Ballet Company since the very beginning in October 2014 and 2015-2016 season.


---

Dancers
Nancy Canning, Assistant & (Guest Artist). Originally from Syracuse, New York, Nancy began training in all dance styles, voice and acting at a young age. In Syracuse she performed with the Syracuse Contemporary Dance Company. She moved to New York City at age 17 to pursue her college degree at Pace University in their Commercial Dance Program. Now in her final semesters, she is now working to graduate a semester early. She has performed at regional theatres, including the Greater Ocean City Theatre Company in "Swing!" most recently. She is excited to be dancing with the American Swiss Ballet Company.



---

Rhys Martin Rhys Martin started his training at the Western Oklahoma Ballet Theater in Clinton Oklahoma. After high school he trained at the Houston Ballet Academy and performed with the Allegro Ballet Company. Martin then trained at the Alvin Ailey American Dance Academy in the Scholarship program where he worked with Milton Meyers, Vernard J. Gilmore, and many other respected dancers and choreographers. Martin also performed with the Alpha Omega Theatrical Dance Company for one season before joining the American Swiss Ballet Company.




---

Cara Connolly Grew up on Long Island, New York, where she received the majority of her training from Maggie Black. In addition to Black's coaching, Cara attended Studio Maestro, Huntington Ballet Theatre, and the School at Steps. She has attended many prestigious summer programs, most notably: Boston Ballet SDP, The Washington School of Ballet, American Ballet Theatre in New York, and New York State Summer School of the Arts (NYSSSA.) Cara's professional career started with Ballet New England, and continued with Mystic Ballet, Connecticut Ballet, and Neglia Ballet Artists. She now a member of American Swiss Ballet Company in New York.


---